18 abr. 2012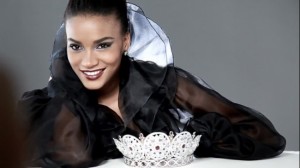 Nassau, Bahamas - It's a summer affair for young ladies who dream of becoming Miss Bahamas, and this year they will have to win over a judge who has already conquered the Universe. Miss Universe Leila Lopes will be among an impressive panel of judges who will choose the country's newest beauty ambassadors during the official preliminary pageant to Miss Universe and Miss World, scheduled for Sunday July 29th at Atlantis, Paradise Island.
Already more than twenty women have applied to enter the pageant, however organizers are calling for more entrants as they will have to go through a screening process in order to make it to the Miss Bahamas stage. "Our experience has been that you have to start with a larger number of applicants if you want to have a good number of entrants," says MBO President Michelle Malcolm.
"We want the best of the best to be bold and come forward. Who knows? Maybe Leila will be helping to choose her successor, and that could very well be you!" The organization is hoping that it will have a minimum of 20 competitors this year. "Our past and present queens have done well for themselves, receiving worldwide recognition for their efforts. However, for each of them it all began by filling out an application form, which can be found at www.missbahamas.net. It's the first step to what can be an incredible journey for two lucky young women," stated Miss Malcolm. Anastagia Pierre is the reigning Miss Universe Bahamas, while Sasha Joyce wears the title of Miss World Bahamas.
A screening is scheduled for May 19th (venue to be announced), at which time applicants will be interviewed one-on-one by MBO officials. Applicants will need to bring along a Bahamian passport, birth certificate, a valid police record, a pair of high heels and a swimsuit of their choice. A non-refundable application fee of $100 will also be due payable. Naturally born females between the ages of 17 and 25 who are of Bahamian ancestry and/or citizens of The Bahamas may enter the Miss Bahamas Beauty Pageant. Contestants must be at least 17 years old by Coronation Night. However, all women crowned queen must be at least 18 years old and under 24 by February 1st in the year that follows their coronation. Candidates must be single, must not have children, nor have ever been pregnant or given birth. Minimum height requirement is 5′ 3″ and maximum height requirement is 6′ 2″. Weight must be proportionate to height. Candidates must be beautiful in face and figure, intelligent, and charming, while possessing poise, a pleasing character, and high moral convictions. The Miss Bahamas Organization reserves the right to refuse an application or dismiss a contestant, using the Organization's codes and regulations as the basis for its decision.
Fuente: thebahamasweekly.com